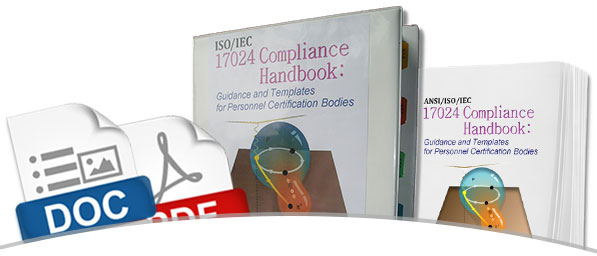 The 17024 Compliance Handbook comes in three formats and three very different price points … not to confuse you, but to give you options appropriate to your situation.  The book is for a single reader.  The binder is 8 ½ x 11, single sided so select pages can be copied for a staff member or department.  The digital sources are in Word so they can be edited to suit your certification procedures.  The information in all three is identical.
Purchase the BOOK if …
you want an overview of 17024 accreditation.
you're a board member who wants to know what accreditation is all about.
you're a VP or Senior Manager who's assigned accreditation to someone and want to be able to
manage their performance.
you want to evaluate the process of accreditation and see what's involved.
you're an auditor who needs to know the ramifications of  ISO 17024 in detail.
Price: $75

Purchase the BINDER if …
you lead a team who is applying for accreditation.
you're responsible for developing certification policies & procedures.
you need to make detailed assignments to authors, administrators, production personnel.
you need to create a budget and schedule for accreditation.
you manage an existing program that needs 17024 accreditation.
Price: $400
Purchase the DIGITAL SOURCES if …
you're creating an accreditation program for an existing certification.
you're creating a new certification that may need to get accredited in 3-5 years.
you want a jump-start that will save you three to six months of secretarial & administrative time.
Price: $4,000